Finding the perfect football sportsbook can transform your betting experience.
Key Points
– The perfect football sportsbook is one that meets your needs.
– Bettors should research a number of different areas to find the right football sportsbook.
The Perfect Football Sportsbook
Football season is here. It's a great time of year for fans and bettors alike. In addition to becoming familiar with statistics and other data, bettors need to make sure they choose the best possible sportsbook for football.
Actually, there is just one approach to finding it. It will require some time and investigation.
The Trust Factor
You will undoubtedly come across a number of online bookmakers as you begin your search for the best one for football. Look for those with excellent reputations in the business.  Brands typically gain name recognition by providing a high-quality product and offering excellent customer service.
Choose trustworthy sportsbooks first. It's the first thing to look for when betting football at offshore sportsbooks. Then, determine if they can meet all of your other needs. Remember that you should utilize a bookmaker that will take bets on both the NFL and NCAA football.
Football Sportsbook Security & Safety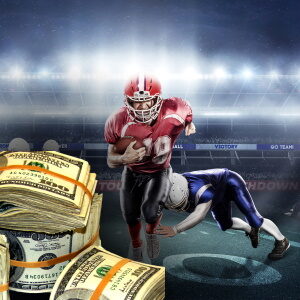 You want to make sure that your financial and personal information is secure when you open an online betting account. Name recognition may be important here as many of the most well-known sportsbooks have a strong reputation for protecting client information.
Every sportsbook must prioritize security. Prospective buyers can read testimonials or even locate references from previous clients. The bottom line is to make sure all of your information is safe and secure at your online betting site.
The Overall User Experience
Bettors today will use a mobile device, a smartphone usually, to make betting transactions. As a result, a mobile website or app must offer a hassle-free, seamless experience. Making deposits, placing bets, and other basic betting transactions must be straightforward and easy to complete while navigating the website or mobile app.
If the user experience is subpar, you most likely will not utilize that sportsbook. A prospective bettor can visit any online sportsbook and take a look around to get a feel for the environment. You don't even need to open an account to get a strong feel for how good a sportsbook's user experience is.
Must Read > Why Bet NFL Second Half Markets
Football Sportsbook Betting Board
You're going to need to do a lot of digging here. Football bettors want options. The usual moneyline, point spread, and totals bets are always available. The typical football bettor will want more. Alternative lines, props, specials, and other wagers have to be on a sportsbook's betting board. During football season, parlays and teasers are popular too. If bettors cannot find these at a certain sportsbook, they will move on to the next.
Football bettors just want to be able to find wagers for both the NFL and college football. Put simply, just find a sportsbook that offers all the wagers you're looking for.
Financial Transactions
Finding the ideal sportsbook only to discover that you are unable to finance your account with a MasterCard or PayPal can be extremely aggravating. It will cause you to move onto the next one. Be sure that your football sportsbook is equipped to take care of your financial needs.
You need to consider each deposit and withdrawal option. Before learning more about the sportsbook's capabilities and features, you might want to do this. If you find a specific sportsbook doesn't accept PayPal and that is your preferred banking method, there is no use continuing with that bookie.
Consider only the betting sites that meet your financial needs. That includes security of your financial information too.

Promotions, Incentives and More
You might find that you'll choose one NFL bookmaker over another simply because of the bonuses it offers. With all of the competition in the market today, sportsbooks are notorious for having great promotions and bonuses.
Most every betting site in the market offers a welcome bonus. Before signing up for an account, make sure you understand how the bonus works, specifically any rollover requirements.
You may also find sportsbooks that offer other incentives like football-specific contests. Squares competitions, like those popular for the Super Bowl, are a contest that some sportsbooks hold on a weekly basis. Bettors can win all sorts of bonuses in these contests.
The Best Odds & Lines
What you would like to have in a football sportsbook is the best odds and lines in the market. If you can find a half-point here and maybe some reduced juice there, you have the perfect betting site.
Finding a bookie with the sharpest odds and lines takes a great deal of research. When you find one or two that might be in the running, take a look at their past odds history. Read online evaluation and you might even get the opinions of current customers.
Making the Final Decision
Ultimately, your football sportsbook needs to meet your needs. That includes having all the bets you despite. Your banking options – both deposits and withdrawals – must be considered. The user experience is a big deal too. Slow page loading speeds are a no-no in today's world of instant gratification.
Don't forget the numbers. You'll want sharp betting lines and odds. In the end, if you find more than one sportsbook that fits the bill, that is probably a good thing. You will be able to compare lines all season long and we all know that bettors that shop for the best line usually have great success.
Before you go, check out betting NFL 1st half lines.