The Buffalo Bills believe that they are the ones who should have been opposing the Los Angeles Rams in the Super Bowl. Maybe it's cold comfort of sorts that they will have a chance to kick off the 2022 campaign against those rams as they try to complete their quest.
BetAnySports customers will be able to see this game starting at 8:20 PM ET at Sofi Stadium in Inglewood, CA, and it will be televised through Amazon Prime as part of their new package.
The Rams have already lost, in a sense, to the Bills. Von Miller, the future Hall of Fame pass rusher, signed with the Bills as a free agent, and this adds even more punch to a defense that ranked at the top of the heap in the NFL in a number of different categories.
It is the defensive unit that can carry this team to a Super Bowl berth. But the offense can do it too. And Buffalo owes this to the progress that Josh Allen has made the last couple of seasons.
Allen threw for 4400 yards last season, but he also threw 15 interceptions. The fact is, he throws the ball down the field, averaging 8.2 yards per pass attempts in 2021. In the playoffs, he really performed, completing 77% of his passes without an interception. Allen also rushed for 763 yards, and a lot of those yards were achieved by running over people.

The Bills had a defensive lapse in overtime of their playoff game against Kansas City; if they had gotten by that, we might be talking about them as the defending Super Bowl champions. And they are the clear favorites to win it all, priced at +550 at BetAnySports, which makes the Bills a road favorite in this game:
Thursday Night NFL Odds – Buffalo Bills vs Los Angeles Rams Football Odds
Buffalo Bills -2.5
Los Angeles Rams +2.5
Over 52 Points -110
Under 52 Points -110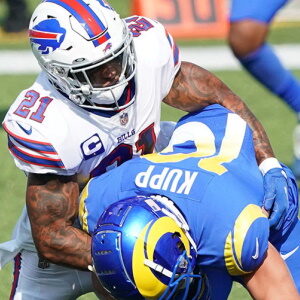 The Rams made the trade to acquire Matthew Stafford last season, in the process giving up Jared Goff. It was the feeling on the part of coach Sean McVay that his offense needed to stretch out the opposition more. And while Goff lacked in that area, Stafford had the arm to do it. With 4886 yards and 41 TD passes, he made that case quite well.
And very few receivers have had a season quite like that of Cooper Kupp, who had 145 catches for 1947 yards and won the Super Bowl MVP award. Robert Woods and Odell Beckham Jr. will not be part of things this year. Allen Robinson is now part of the receiving corps, and Van Jefferson, who averaged 16 yards a reception last year, should have an increased role.
According to sportsbook software, the defending champions averaged just 99 rushing yards per game, although it deserves mention that Darrell Henderson and Cam Akers missed time with injuries. McVay likes a ground game, but we wonder if this crew can be all that formidable. And that may be the only way to beat the Bills, who demonstrated a dominant secondary, which still stayed very proficient after losing corner Tre White to an ACL injury (he's still missing). Buffalo yielded just 5.5 yards per pass attempt last year and did not allow the opposition to hit a long pass on either a "go" route or a fly route.
So the Rams won't be able to attack the Bills' defense the way they'd like. And that matters here, enough that we're willing to lay the points.

Get your NFL season started off right with BetAnySports. Look for "reduced juice" prices on all games, so you can get better odds, and remember that there are many ways to participate in wagering even after the game has started!…… If you like casino action, check out what we have to offer in their SEVEN casinos, including the new Horizon Casino…….. Get the action started with a credit card or the virtual currency of Bitcoin, and let's go!