The Miami Dolphins are not only out to a very quick start, they have established a claim – on the basis of merit – to being the top team in the AFC. When you beat three of the top squads in the conference – Baltimore, New England and Buffalo – you can make a case.
But they were very permissive on the defensive end last Sunday, which is a warning sign as they approach their Thursday night game against the Cincinnati Bengals, which is scheduled to get underway at 8:15 PM ET at Paycor Stadium (formerly Paul Brown Stadium) in Cincinnati.
NFL Lines and Previews – Dolphins vs Bengals Sports Betting Odds

At SportsBetting.ag, you can get reduced juice on this game; here are the Thursday Night Football NFL lines that have been posted by them on this game:
Cincinnati Bengals -3.5
Miami Dolphins +3.5
Over 47.5 points -110
Under 47.5 points -110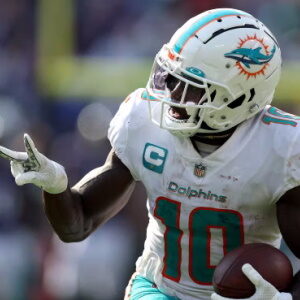 Miami beat Buffalo on Sunday by a 21-19 score behind a couple of nice defensive stands. But they were outgained by 285 yards, which is a whopping figure. And the Bills ran 90 plays, compared to just 39 for the Dolphins.
This is a defense that needs a break. Being on the field for ninety plays four days ago is a LOT. For that reason, there is nothing the Dolphins would like more than to be able to control the football. And part of McDaniel's overall philosophy is to be a very solid club on the ground. That isn't happening right now. They had only 41 yards rushing against Buffalo. The personnel they have on hand is better than that. But it hasn't gone smoothly. And that's a concern.
Tua Tagovailoa is climbing up the MVP charts, He seems to always be answering questions as to whether he is a quarterback capable of leading his team to the playoffs. With 469 yards against Baltimore, he was the talk of the NFL. But he followed that with just 186 yards on 18 attempts against the Bills on Sunday. And he suffered what he described as a back injury, although the Players' Association believes it was a concussion that was mishandled by the Dolphins.
There is no doubting Miami's speed on the outside. And that is what Cincinnati has to deal with.
The Bengals have not faced the great quarterbacks of the NFL in their first three games. Mitch Trubisky, Cooper Rush and Joe Flacco do not constitute a "murderers' row" of signal-callers. So while Tua isn't among the elite yet, when you look at his receivers, this is the most formidable crew yet. So even though the Bengals are fifth in the NFL in yards allowed per drive, this gets tested.
According to pay per head services, Cincinnati was the beneficiary of a lot of Jets mistakes on Sunday, including stupid penalties that extended drives and directly led to touchdowns. But they did some things well on their own. Joe Burrow had 275 yards and three touchdowns, and if you followed the Bengals' run to the Super Bowl last season, you know that they have a set of receivers who can match almost anybody's. Ja'Marr Chase was kind of quiet last week (just 29 yards on six catches), but that isn't likely to last long.
The scheduling situation here does not exactly favor Miami, having come off three big-time opponents and now having to face another after really draining its defense. And if Miami decides to do a lot of blitzing, they will probably come up with some sacks, but that didn't sufficiently slow down Burrow last season. And he has historically handled the blitz very well. So we'll look for the Bengals to get things together and perhaps put some distance between themselves and the Dolphins. Lay the points.
Try reduced juice at SportsBetting.ag to get a better price on the Thursday night game between the Dolphins and Bengals……. And remember that you can wager on all the props you want (through Prop Builder)…… Check out the new Star Casino and Horizon Casino. There are eight different casinos in all !!!