Betting NHL totals is unlike that of most other sports. It can be tricky for a number of reasons. One is the strategy of removing a goalie late in a game in an attempt to gain an extra attacker and score in the waning moments of a game. Betting totals in hockey is a challenge and bettors must be prepared.
Key Points
– Betting NHL totals requires knowledge of a number of factors.
– There are key numbers in hockey related to betting totals.
Betting on Hockey
NHL totals betting can be challenging because of end-of-game situations. Teams have the option of switching out their goalie for an extra attacker. This is often done late in a game when a team is trailing by a single goal.
It can actually be done at any time in a hockey game, but when a team's net is left undefended it has a higher chance of giving up a goal. There are numerous times in NHL games where a team trailing 3-2 ties the game and sends it into overtime.
If the game total was 5.5, Under bettors lose and Over bettors get lucky. The game will eventually end 4-3 whether in overtime or in a shootout.
While this can be frustrating, hockey can be the most profitable sport to wager on.

NHL Totals Key Numbers
When we think of key numbers, we typically think of the NFL. Most NFL games end with scoring margins of 3 and 7. NFL games also end with common total scores like 41 and 44. All of these numbers are often referred to as key numbers.
In NHL betting, there are also a few key numbers. In NHL games, 5 and 5.5 are key numbers. Interestingly, there is a huge difference between the two.
When betting NHL totals, oddsmakers will set a game total between 5 and 6.5. Sportsbooks like to avoid the push so 5.5 is a common number. In a typical season, anywhere from 25 to 30 percent of NHL games end with a total of five goals. The most common NHL score is 3-2, which occurs about 11 percent of the time.
Approximately 43 percent of NHL games end with a total of six goals or more. That means 57 percent end up with five or fewer goals. That is what makes 5 and 5.5 key numbers when betting on totals in NHL games.
Bettors that understand and comprehend this difference can have better success as they bet hockey totals throughout a season.
FROM OUR PARTNERS: PICKING A MLB SPORTSBOOK FOR THIS SEASON
Don't Be Tempted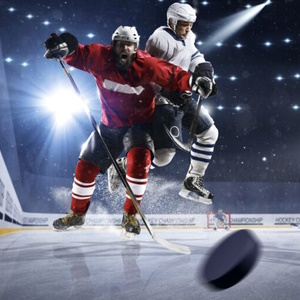 Bettors see it all season. Whether betting on international hockey or the NHL, a game total is listed at 5 and bettors want to take the Over. It's tempting until you realize that in a given season over 60 percent of games are decided by a single goal.
Remember, the most common hockey score is 3-2. While 4-2 is next on the list, in third place is 2-1. Fifty-seven percent of games end up with five or fewer goals. That means a lot of games end with scores of 3-2 and 2-1.
If a total is listed at 5, there's probably a good reason. It might be a matchup of two good defensive teams that have outstanding goalies. Games that are low-scoring through the first two periods are likely to stay that way. Teams are cautious and will force overtime instead of giving up an easy goal.
The bottom line is to not be tempted to take the Over with a low total. It's also wise to look into why a total is set at 6.5 before automatically wanting to play the Under.
Home and Away Games
The NHL's home-ice advantage may be waning, but there will always be teams with a significant home/away disparity. Bettors have to know which teams perform better at home or on the road. An online betting portal like Sports Bookie USA is a great resource to find such information.
Because of the intense pressure to perform well, teams that are having trouble meeting expectations may notice a decline in their play at home. Instead of taking chances, they will become overly cautious.
On the other hand, when on the road, the same team might play more carefree and wind up creating more scoring opportunities.
Finding these teams and monitoring their performance is crucial. Before drawing any firm conclusions, gather enough data to have a solid sample size. It doesn't hurt to check offshore for better lines and odds too. Nothing is worse than drawing hasty conclusions and seeing your bankroll burn because your handicapping was insufficient.
Look at NHL Totals from the Big Picture
Looking at a team's scoring averages for the entire season or at a run of games is a pretty common error most novice NHL bettors make.The outliers skew the numbers in one direction masking true trends.
Take the following example. The Pittsburgh Penguins played seven games and the final scores were as follows: 2-1, 3-1, 2-0, 3-2, 2-0, 6-4 and 7-5. That's a total of 38 goals and if you divide that by seven, you get 5.43.
Don't make false gambling assumptions. A newer bettor might interpret this a couple ways. First, the average of 5.43 might make a bettor consider the Under since most totals are 5.5 or higher. The inexperienced bettor might also lean to the Over because of what happened in the last two games (6-4 and 7-5).
An experienced bettor would realize that 22 of the 38 goals were scored in two games. If you take those games out, the combined average is just 3.3 goals per game. The experienced bettor will also realize that he might need a bigger sample size in order to make a good decision.
In the end, betting on NHL totals takes much more than just looking at recent games and overall scoring averages.