When it comes to sportsbook pay per head providers, one company that made a name for itself is PricePerPlayer.com. Our PricePerPlayer.com sportsbook pay per head review will look at what you'll get for $5 or less per player.
PricePerPlayer.com offers the cheapest PPH solution on the market. However, the company doesn't sacrifice the quality of its services. Instead, you'll get everything you need to run a sportsbook.
According to other bookie pay per head reviews, Price Per Player has a loyal client base. Once bookies try their services, they don't look for other providers. As a result, they have become one of the top bookie PPH providers since its launch in 2013.
PricePerPlayer.com General Info:
Price Per Player: $5 or less
Country: Costa Rica
Inception: 2013
Email: cs@priceperplayer.com
Telephone: 1-866-500-4934
Website: PriceperPlayer.com
Software: DGS
Ranking: 9.0/10
Features Pay Per Head Service

Sports Betting
Telephone Wagering
Player Prop Bet Builder
Online Casino
Live Casino
Racebook
Live Betting 
Private Website
PricePerPlayer.com Sportsbook Pay Per Head Review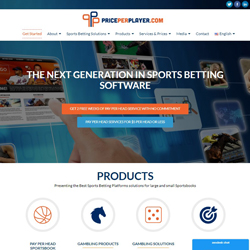 One thing we like about PricePerPlayer.com is that they allow you to try its services before you pay for them. In addition, they offer two weeks free trial with no deposit required. Also, all you need to do is sign up for an account.
Registering with PricePerPlayer.com
PricePerPlayer.com has a streamlined registration process. It requires a username, type of account, and password. Also, the company doesn't need any credit card information to start the free trial.
Sportsbook Software Review of PricePerPlayer.com
PricePerPlayer.com has the best bookie software that's based on the DGS platform. It allows you to customize players' limits and more. Also, you can do it via the bookie dashboard. Other PPH providers require you to call them to get it done. In addition, you can manage the lines that will reflect instantly.
The dashboard is clean and user-friendly. You can easily find what you need. Also, you don't need to follow a tutorial to learn how to use the software. It is intuitive and easy to use. If you run into some trouble, a customer service team is available 24/7.
PricePerPlayer.com PPH Rating: 9.0
Why PricePerPlayer.com.com Received this Rating
PricePerPlayer.com offers a cost-effective PPH solution. You'll get two weeks of free trial to find out if the software is suitable for your bookie goals. Then, once you've reached the end of the trial, you'll pay $5 or less for every player. Thus, we recommend Price Per Player to people who want to become successful bookies.