The Miami Heat looked to BetAnySports patrons as if they were going to cruise to an easy victory in Game 3 of their Eastern Conference final series, but the Boston Celtics still made it difficult when all was said and done, even after an unusual amount of miscues.
Now it appears that injuries may play a big factor in Game 4 of the best-of-seven, which begins at 8:30 PM ET on Monday at the TD Garden.
Miami's 109-103 win on Saturday was greatly aided by 24 turnovers on the part of the Celtics, but truth be told, the Heat put together a defensive package that flustered them. They also frustrated Jayson Tatum's attempts to generate offense; Boston's top scorer had just ten points. Jaylen Brown did do what he could to make up the difference, with 40 points. But the Celts allowed Miami to get off to a 39-18 first quarter lead and they had to play catch-up from that point forward.
We're actually not even sure about the full cast of characters for Monday night's Game 4, but the general consensus is the Boston carries an edge as the healthier of the two squads. And there is the "bounceback" factor as well.
Heat-Celtics Game 4: Betting Odds
In the pro basketball betting odds for this Eastern Conference finals game, posted at BetAnySports, the Celtics are laying quite a few points at home:
Boston Celtics -7
Miami Heat +7
Over 206 Points -110
Under 206 Points -110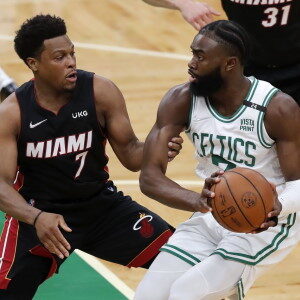 On the injury front, Miami looks like the more banged-up team. Tyler Herro, the NBA's Sixth Man winner, is out with a groin injury. He has been averaging 13.5 points in the playoffs and with Duncan Robinson being held out of the rotation for the most part, he has been a welcome supplement to the offensive explosion offered by Jimmy Butler.
And speaking of Butler, he had to sit out the second half of Game 3 with knee inflammation, and he will be working out before Monday's contest with the intention of playing. The same can be said for other members of the Miami rotation; namely, Max Strus and Gabe Vincent, who have hamstring issues.
Also in that category is Kyle Lowry, who just returned to action in Game 3 and contributed eleven points, six assists and four steals.
Boston was missing rim protector Robert Williams in Game 3 as he rested a knee that has recently been surgically repaired. According to bookie software stats, without him, the Celtics have centers, but none who really have the ability to alter the shots of the opposition. But he should play.
However, one may want to proceed with caution when it comes to the ankle injury suffered by Marcus Smart in the second half on Saturday. It actually looked pretty gruesome when it happened, but Smart was able to return to the game. The assumption is that he will play, but as coach Ime Udoka pointed out, these kinds of injuries don't necessarily feel much better a day or two later.
This is a hefty number to carry. But take into consideration the fact that Miami scored 33 points off turnovers in the last game, yet still had life and death protecting a 26-point lead. The Heat are the kind of team that needs as many scoring outlets as they can possibly bring to the surface, and they only tallied 70 points over the last three quarters on Saturday. Those scoring outlets are in a bit of doubt now. So the Celtics should be able to tip the scales in their favor.

BetAnySports has lots of ways to play this game, and every game in the NBA playoffs…….They've got alternative lines, as well as Prop Builder, and don't forget that once the game has started, you have several ways to engage in live betting action…….. Join up by using a credit card, in addition to crypto deposits with Bitcoin, which don't incur a transaction fee!