Even after their atrocious performance the other night, the Golden State Warriors still have an opportunity to clinch their Western Conference playoff series against the Memphis Grizzlies if they can win in San Francisco on Friday night.
SportsBetting.ag customers saw a very flat performance from the Warriors on Wednesday night, which, combined with a huge effort from Memphis, which was missing point guard Ja Morant, resulted in a 134-95 Grizzlies victory.
Understand that Memphis is the team with the home court advantage, since they are the ones with the higher seed in the conference. So a Game 7, if it's necessary, will be played back at the FedEx Forum.
It was ugly for Goldn State in Game 5. At one point Memphis had a 55 point lead, as a 77-50 halftime advantage was followed by a 42-17 third quarter.
So obviously it didn't look like the Grizzlies needed Morant, who was seventh in the MVP voting this season. Even if they advance to the next round, his availability would be doubtful, because he has a bone bruise in his knee.
NBA Western Conference Playoff Odds
In the NBA playoff odds that have been posted on this game by the folks at SportsBetting.ag , Golden State is laying points:
Golden State Warriors -8
Memphis Grizzlies +8
Over 218.5 points -110
Under 218.5 points – 110
You would figure that the Grizzlies wouldn't be able to sustain a high level performance without their best player. But the fact of the matter is, they've been victorious in 21 of 27 games without Morant. And in 16 of those games they won by double digits.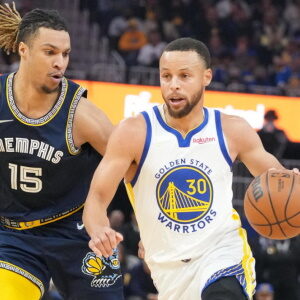 The backup point guard, Tyus Jones, is, for the most part, a better defender, as the Grizzlies allow almost six points fewer per 100 possessions with him on the floor. And with Jones, turnovers are not much of a worry, as he has had a ratio of seven assists per turnover this season. That's sensational.
According to online igaming platform statistics, Memphis is a deep team, and very balanced. For example, in Wednesday night's victory, there were three different players with 21 points – Jaren Jackson, Desmond Bane and Jones. They hit the offensive boards. They don't have to rely on triples. They cover numbers also; this season they have the best pointspread record in the NBA at 59-33-1.
These guys play defense as well, and in terms of three- point artillery, they have kept Steph Curry relatively under wraps, as the two-time NBA MVP has made just 32% of his attempts from beyond the arc.
If we could do a quick advertisement for Taylor Jenkins for a moment- he is unique in NBA circles, since he is the only head coach in the league who did not play basketball in high school. What he did do is learn the tricks of the trade in the San Antonio organization, with some of that under the tutelage of Gregg Popovich.
We have seen what Pops has done with some of his other assistants, namely Mike Budenholzer, who won the NBA title last season with the Milwaukee Bucks. What Jenkins has done is borrow quite a bit from the Popovich playbook, including the aforementioned non-reliance on three-point shooting. No team has made more two-point field goals than the Memphis Grizzlies. And obviously that's been a winning formula for them.
All told, the Grizzlies have enough to be able to keep this game within the number.
SportsBetting.ag  has it all if you want to enjoy the NBA playoffs! Get reduced juice, so better odds come your way on all the games, and then you can place wagers while the game is in progress, which is very exciting if you haven't tried it!……. Open an account by using your credit card or the virtual currency of Bitcoin, which is fast and easy with their automated system, and NEVER incurs a transaction fee!