Things have a way of moving fast and furious during March Madness, and nowhere is it faster than in the College Basketball Invitational (CBI), where teams are playing back-to-backs.
And in the semi-finals of that event, two squads coming off different types of results will square off. BetAnySports customers will see the Middle Tennessee Blue Raiders clash with the Abilene Christian Wildcats in a game that will start at 9 PM ET at the Ocean Center in Daytona Beach, FL.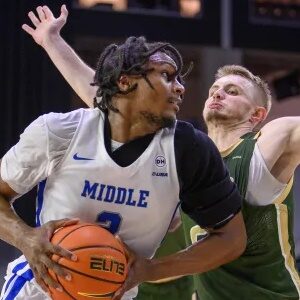 Both teams come in with 25-10 records. Middle Tennessee had a rather easy time of it in last night's contest, with a 76-46 blowout of Boston University. They played lockdown defense, holding the Terriers to 12-of-28 from two-point range and an abysmal 5-of-25 beyond the arc. In addition to that, they shot 55.6% themselves.
Abilene Christian beat Ohio University in a 91-86 donnybrook which saw 112 points scored in the second half. The Wildcats got to the line 29 times, but they also allowed the Bobcats 40 chances from the charity stripe.
According to sports betting software data, that was not incredibly unusual for ACU. As far as free throws as a percentage of points, they rank fourth highest in the nation, while they also foul a lot, as opponents' foul shots are almost half that of their field goal attempts.
NCAA Basketball Betting Odds – Abilene Christian vs. Middle Tennessee
In the March Madness betting odds that have been established on this game by the folks at BetAnySports, Middle Tennessee is the favorite:
Middle Tennessee Blue Raiders -2.5
Abilene Christian Wildcats +2.5
Over 153 Points -110
Under 153 Points -110
And keep in mind that not only can you get reduced juice on this game, you can also place wagers while the contest is actually in progress through Premier Lines, Ultimate Lines and Super Lines!


Abilene Christian is not a team that is used to relying on hot shooting. They are hitting 31.9% from three-point range and 48.6% from inside the arc. But as mentioned, they have been especially good at drawing fouls. Starters Coryon Mason (20 points vs.Ohio), Mahki Morris and Damien Daniels are all over 80% accurate from the line.
And that's not all; this is a team that thrives on creating turnovers. In fact, ACU is #1 in the country in defensive turnover percentage. Obviously, it is incumbent upon Middle Tennessee to take care of the basketball. They coughed it up only seven times against Boston.
Perhaps one factor to consider is that between two teams that foul quite a bit, the Blue Raiders are the slightly better team from the line, in that they are 76.1% accurate. But there are other factors that might carry more weight.
One of them is that in a set of circumstances in which these clubs have to turn right around and play the nest night, it is to Middle Tennessee's advantage that (a) they had a "laugher" and a chance to spread the minutes around, which Nick McDevitt does quite a bit of anyway and (b) ACU really had to extend itself in that wild affair against Ohio last night.
And if a team like the Wildcats isn't going to shoot up a lot of threes (and they actually don't), they are going to need something of an effective game closer to the hoop. And the Raiders have a bit of a roadblock in 6-7 forward Teafale Lenard, which ranks in the top 40 in block percentage, swatting away four shots last night.
We have to cast a vote for the fresher Middle Tennessee bunch. We'll lay the points.

Nobody does it better in March Madness than BetAnySports, where you can get reduced juice and stay very much in the action a alltimes with real-time wagering…….. And they make it easy for you to open up an account if you have Bitcoin, which doesn't ever incur a transaction fee!