The Boston Celtics threw up three-pointers like there was no tomorrow in Game 1 of the NBA Finals. In Game 2 they didn't seem to get off many good shots at all. But they made things easier for themselves in Game 3 by getting the so-called "easy" baskets and owning things on the inside.
It must have appeared to many folks in the SportsBetting.ag, audience as if they were finally asserting what seemed to be a potential advantage for them at the outset of this championship best-of-seven against the Golden State Warriors. Now the question is whether the Warriors have what it takes to counterbalance the Celts if they keep playing like this.
They will tip off Game 4 at the TD Garden at 9 PM ET on Friday. And even after the game gets underway, you can do live betting using the facilities of Ultimate Lines, Premier Lines and Super Lines.
The Game 3 final was 116-100, and the fourth quarter was harrowing for the Warriors, as they were held to five field goals, 1-of-9 from three-point range and eight turnovers. Draymond Green fouled out; it was just bad all around.
And so now it is time to regroup, as the Celtics had to do as they returned to Boston after splitting two games in San Francisco.
NBA Finals Odds – Boston Celtics vs. Golden State Warriors
In the NBA Finals odds posted on this game by the people at SportsBetting.ag, the Celtics are once again the favorites:
Boston Celtics – 4
Golden State Warriors + 4
Over 214.5 points -110
Under 214.5 points -110
If you really wanted to simplify things, you could say that the Celtics were much more ready to play than they were in Game 2 – showing a lot of offense in the first half and a lot of defense in the second, seemingly getting all the "hustle points" along the way.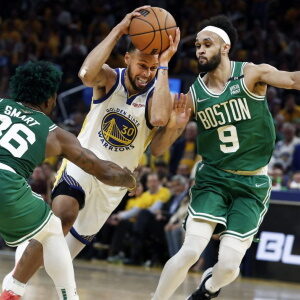 When it came to pulling down rebounds, Boston truly had the edge in Game 3, with a 47 -31 margin. They also had 15 offensive rebounds, compared to just six for the Warriors. Bookie Software have translated this into a 22-11 advantage in second-chance points, and Boston reversed what had been happening to them previously in the series, as they doubled up Golden State in terms of points in the paint, with a 52-26 edge.
Robert Williams has not been able to play as much as he usually would, because he's still nursing a bad knee, but he his plus-minus was + 21 in Game 3, and that was excellent; the best figure on either team.
This is an area the Celtics can exploit, as G-State doesn't bring a lot of bulk to the table, beyond Kevon Looney. And that makes us curious as to why Looney has not played more than 63 minutes in the three games combined. His difference of 137-107 in offensive and defensive rating is pretty impressive. And if it comes down to somebody who has to duke it out with the big guys on Boston's roster, he's their best hope.
But Golden State, which operated well inside the arc in the first two games, was drawn more to the outside on Wednesday night, as they attempted 51.3% of their shots from beyond the three-point line. That's not bad if your guys can grab a reasonable number of caroms off the glass on misses, but that wasn't happening much at all.
And the Celtics may have something to build on, as Marcus Smart proved to be something of an immovable object against Steph Curry, who is clearly the go-to guy on Steve Kerr's roster. Curry made 12 of 22 shots, with six triples, but the analytics guys calculate that Smart was guarding him for four minutes and 57 seconds, during which time Curry went scoreless. And Curry suffered an ankle injury when Al Horford rolled upon it, but he has every intention of playing.
And he'll probably get his share of points too. But Golden State really has to take good shots away from people other than Jayson Tatum (just 33.9% in the series). And they need to block out. They need to leave Looney in there longer, and if they do, they'll play defense better. We'll move with the UNDER here.
SportsBetting.ag  has everything you want when it comes to enjoying the NBA playoffs. Get reduced juice on this and every game, in addition to the opportunity to do live betting through a number of different outlets, and a multitude of props to choose from….. Remember also that you can use the virtual currency of Bitcoin to make your deposits, and that never comes with a transaction fee!