It almost seemed pre-ordained that the Brooklyn Nets would be an NBA champion when James Harden joined Kevin Durant and Kyrie Irving in the lineup. At least that may have been the assumption on the part of BetAnySports customers. The problem is, they were almost never together at the same time. And so things did not go as anticipated in last year's playoffs.
Irving's anti-vaccine stance has kept him out of home games (although that's been reversed), but word is that Harden was not happy that Kyrie was only going to play half the time.The trade to Philadelphia was made, and Harden left, with Ben Simmons, Andre Drummond and Seth Curry coming to the Big Apple.
Whether Simmons is ever going to be ready to contribute during this post-season is unknown. But the challenge for coach Steve Nash has been to get his people to play roles in support of Irving and Kevin Durant, and to play something that can pass for defense.
Drummond may not be all that nimble, but he can still be a rebounding force in the middle. It would benefit the Nets greatly if he could contribute more in Game 2 against the Boston Celtics, which begins at 7 PM ET at the TD Garden in Boston.
Here are the numbers as they are posted at BetAnySports. You'll see that the Celtics are favored again:
Brooklyn Nets vs. Boston Celtics Betting Odds
Boston Celtics -3.5
Brooklyn Nets +3.5
Over 226 Points -110
Under 226 Points -110
Of course, in Game 1, the Celtics got by with a 115-114 victory, and this came despite holding Durant to just nine field goals in 24 attempts.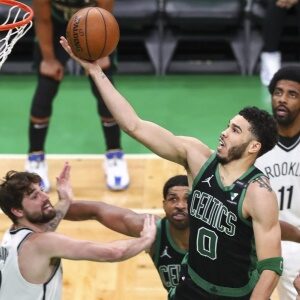 Boston really devoted its game plan to keeping Durant under wraps, denying him the ball when possible and always trying to make him take his shots from a place that was awkward. In other words, their objective was to keep him off-balance, and in the process, keep the Nets off-balance.
According to Bookie PPH, that can only happen when a team is VERY dependent upon one player for offense. But this can be more problematic with the Nets, because not only do they have the potentially explosive Irving, there is also the three-point threat of Curry, who is about as good at long-range shooting as anyone in the business.
In Game 1, the Nets, aside from Durant, shot 61% from the field. So if there are legitimate sources for points elsewhere, the concentration on Durant could be a "net" positive for Brooklyn.
As it stands, there are a couple of challenges the Nets have to meet. One, as we mentioned, is to get better shots for Durant.  And they have enough time to make some adjustments.
Another challenge involves Brooklyn and its defense. The Nets were not one of he best in the NBA in that department; in fact, they were 19th in the league in Defensive Rating.
Boston hit 47% of its shots, with twelve triples, and their balance presented something of a problem, as they had four players scoring 20 points or more.
But will Al Horford have 20 points and fifteen rebounds again? One of the concerns with the Celtics was the absence of Robert Williams, who is a great "rim protector" in the middle. Someone like Drummond would have to rise to the occasion for things to click for the Nets.
Remember that Boston had the second-best Defensive Rating in the NBA this season. And they have the league's Defensive Player of the Year in guard Marcus Smart. But those Brooklyn shooting numbers – Durant aside – were impressive.
What the Nets have to do is rebound better. They were behind 43-29 in that regard in Game 1. But with a better performance from Durant (and we know he is quite capable of it), we can see Brooklyn getting even here.
BetAnySports has it all if you want to enjoy the NBA playoffs! Get reduced juice, so better odds come your way on all the games, and then you can place wagers while the game is in progress, which is very exciting if you haven't tried it!……. Open an account by using your credit card or the virtual currency of Bitcoin, which is fast and easy with their automated system, and NEVER incurs a transaction fee!
Get more Free Basketball Picks