In our latest sportsbook review, we are doing a HRWager.ag sportsbook review. HRWager is a popoular sportsbook, and there are a lot of reviews about them. Unfortunately, these reviews are a bit dated, so we wanted to see if anything has changed. Hopefully, we will see improvements, as most successful sportsbooks do over the years.

To refresh your memory, HRWager opened back in 2012, but was bought by BetPhoenix.ag. Surely there have been changes since they have started to use the BetPhoenix Platform. Let's see what changes we have noticed, and if they are still as good as they claim to be. Is HRWager a good sportsbook for those who are looking for where to bet on sports?
HRWager.ag General Info:
Inception: 2012
 Minimum Bet: $1
 Email:  customerservice@hrwager.ag
 Telephone: (833) 694-4268
 Live Chat Available: Yes
 Website: hrwager.ag
 Location: Costa Rica and Curacao
HRWager.ag Sportsbook Features
 Service: Sportsbook
 Products: Sports betting, horse racing, dynamic live betting
 Private Website: Available
 Software: BetPhoenix Platform
 Telephone Wagering: yes
 Country Restrictions: None
HRWager.ag Sportsbook Review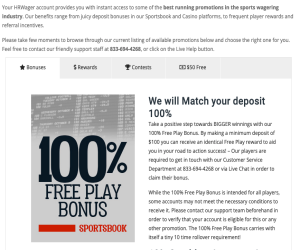 HRWager.ag is known for its very generous bonuses for its players. There is little to question about their software sportsbook platform, since BetPhoenix is a good sportsbook company. We are glad to see that BetPhoenix is retaining the bonuses that HGWager is known for.
BetPhoenix offers a 100% bonus (which was actually than before at 200%). It has a 10% rollover requirement, and you will need to get in touch with customer service to activate it. There are additional terms unmentioned in the site so its really best to verify with their agents first. They also have additional bonuses, like $50 when you verify your account. In addition, they have sport-specific bonuses that you can get. Again, these depend if you qualify, which you need to check since there are quite a lot of requirements.
Sportsbook Review of HRWager.ag
Their software is good and reliable, but the portfolio is not as varied as that of a PayPerHead sportsbook. They have also increased their deposit and payout methods compared to a few years ago as mentioned in other reviews, so we are glad to see that they are keeping up with the demands of the customers. Lines are good as well. We did like that they have a 10% insurance that you get when you lose, but other than that, its pretty much like any other basic sportsbook.
HRWager.ag Sportsbook Rating: 6.8
Why HRWager.ag Received this Rating
HRWager.ag shows growth over the years, with them expanding their payment methods and offering live betting and such. But they do lack certain features that we see in other sportsbooks, such as a prop bet builder option that gives players more flexibility in customizing their bets. Their welcome bonus is not as generous as before, and their other bonuses need so much things to qualify for. We also need to contact customer service to ask for bonus rewards, which is automatically given in other sportsbooks.
Basically, while they do offer decent sports betting services, they simply are not the best the market has to offer. There are other sportsbooks that offer more, and easier ways to unlock bonuses, so we would rather go to those sportsbooks instead.
Get the Complete Sports Betting Software Services at SportsBettingSolutionAsia.com Today!